Brewed by Design, for What Ales You
In 2015, long time friends Dave Beifuss and Todd Barber opened a small brewhouse in Fonthill, Kame and Kettle Beer Works. The name Kame and Kettle is a tribute to Fonthill, the highest point in The Niagara Peninsula. A kame is a hill made of sand and gravel that accumulates when a glacier melts. Kettle lakes are often associated with kames, but with none nearby the brewhouse kettle completes the partnership.
Kame and Kettle Beer Works offer eight beers, rotating between new and long-standing favourites. To date, they have crafted over one hundred different beers. The variety of craft beer brews on tap includes the fan favourite "Minivan" a classic blonde ale. With brews like Boo Boo Jus, Give Me Tarts, and Gedit D'Fa Kenya you know you are going to have a unique brew and a good time. Beifuss and Barber strive to provide beers that are brewed by design, for what ales you. The team is passionate about offering a full experience including brew tours and foam parties.
"Our brew tour is interactive, we make the connection between crafting beer and cooking. Our beer kettle is like a pasta pot where we add spices and flavours. The process is small batch and truly as handmade as it gets." Dave Beifuss, Co-Owner.
The brewery activity takes place in a small area with industrial design elements created by Barber that showcase the operations and production facilities. For Barber and Beifuss, born and raised in the Niagara region it didn't matter that Fonthill is off the beaten path. The location was paramount along with their desire to serve the local community. "There was public demand to come see us and locals were proud of a little brewery in their hometown," says Beifuss.
Customers drank Kame and Kettle Beer Works dry In the first two weeks of opening and Beifuss and Barber knew they needed investors to upsize their production. They approached Venture Niagara for funding and support. "Venture Niagara believed in us and backed our plan. It was like having another member of the team," says Beifuss. Venture Niagara General Manager, Frank Rupcic and Loans Officer, Volker Loetfering exceeded their expectations by funding the project, customizing payments, and forming business connections in the community. With the backing of Venture Niagara, Kame and Kettle Beer Works has a projected growth of 25% year of year.
"We now have the infrastructure to meet the demand and can produce seventy times more beer because of the funding we received from Venture Niagara." – Dave Beifuss, Co-Owner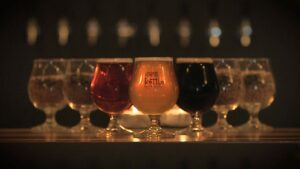 The expansion plan changed the way Kame and Kettle Beer Works operates and they now have nine people on staff and hire summer students every year. The in-house restaurant 'Righteous Monger' run by chef Mark Hand employs four people serving thirsty customers gourmet fare.  Hot buttered pretzels with a homemade honey mustard dip, chicken and waffles, or the easy street burrito keep customers eating well and drinking well.
The support of Venture Niagara meant that Kame and Kettle Beer Works could grow in size and scale. Today they have their dream brewery serving over fifty restaurants in the Niagara area. Beifuss and Barber are passionate about meeting demand in the Niagara Peninsula first and one day bringing their beers to grocery stores and the LCBO. Over 16 other breweries have opened since Kame and Kettle Beer Works began drawing tourists for wine, culinary, and an unparalleled craft brewery experience.
For information about Kame and Kettle Beer Works visit www.kameandkettle.ca or email info@kameandkettle.ca.
For more information on Venture Niagara visit www.ventureniagara.com or contact (905) 680-8085.