Question: What do Arctic Kiwi berries and mushrooms have in common?
Answer: They are both grown at Whitecrest Mushrooms Ltd., a family owned and operated farm near Putnam, in the heart of Southwestern Ontario.
Growing Arctic Kiwi berries is just one of the innovations that Murray and Chantelle Good and their sons Evan and Aidan have brought to Whitecrest since buying the farm in 2001. Murray Good further explains, "Whitecrest has been operating since 1985 in Middlesex County at the corner of Highway 73 and Cromarty Drive. We employ 43 full-time people in the business of mushroom farming. We grow four million pounds annually and sell mainly in Ontario. We also grow five acres of Artic Kiwi for the local market.
"We are developing a robotic harvesting system to harvest our mushrooms on the farm. This project employs 21 engineers from all robotic disciplines. We are populating Whitecrest in the first quarter of 2022. We are also working on many other processes to reduce energy, including a Pyrolysis project to process our spent substrate into biochar for a peat moss replacement."
Innovation does come with a price tag, and that's where Community Futures Middlesex (CF Middlesex) comes in. The Good family approached CF Middlesex initially in 2012, and then again in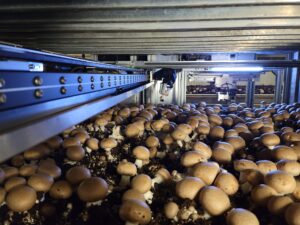 2020. Good explains, "We approached CF Middlesex for the $100,000 small business EDGE loan with no payments for a year and a half. We used this to build and develop a farm store."  More traditional loan financing was accessed to assist with completion of their expansion.
"Without CF Middlesex and the delayed payment loan, we would have had to delay the build for two years as we had just finished our farm expansion, which cost eight million dollars. The repayment structure of the EDGE loan at the time alleviated the risk of the new endeavour as it is payment-free for 1.5 years. This gives us better cash flow and improves the chance of success of the project."
Good Family Foods Retail Outlet is located on the farm property and sells Whitecrest Mushrooms and Arctic Kiwi berries (in season), as well as mushroom burgers of various sorts, all developed by Whitecrest in partnership with VG Meats of Simcoe. The retail outlet also sells other mushroom products, and other locally produced and developed items, including soups, flowers (in season), popcorn, and lots more.
Good adds, "The store allows us to create another income stream for the farm products and allows a more local retail outlet to service the local community. The store provides access to retail and
wholesale customers with access to the new retail products we have developed, including mushroom burgers, stuffed mushrooms, mushroom powders, and vegan mushroom bacon. These products are very difficult to get into retail through the bigger corporations, so this store allows us to sell them without the politics of the large retail chains."
The mushroom farm and then the expansion into the retail store allows Whitecrest to support the local economy and community. Good says, "The store needs three people to run it to start. In six months, we are going to look at doing local deliveries to other urban markets and restaurants. We see the store helping us access more of these customers. We would then need two more employees.
"We also support two local hockey teams in Dorchester, as well as the high school robotics program at Lord Dorchester Secondary School."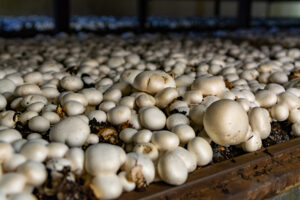 Additionally, there are more big ideas in the works, or at least in the planning stage. Good enthuses, "Robotic mushroom harvesting, spent mushroom recycling through biochar (carbon sequestration), peat moss recycling from our casing layer with local soil blenders, recycling our exhaust air to capture BTU's to cool or heat our incoming air…these are some of the ideas we are looking into."
Additionally, Good expands, "We want to use our waste heat and CO2 to grow strawberries and wasabi in a greenhouse located on the farm and develop a system to create sanitizers and cleaners from electricity, salt, and water (HOCL). This process would allow us to eliminate chemicals in our growing process, which would allow us to recycle our wastewater back into the plant. There are many ways we can make our growing process greener and more energy efficient too."
Sounds like Whitecrest Mushrooms and the Good family will continue to be clients of CF Middlesex in the future, and Good agrees. "The loans are very well structured for the needs of business. CF Middlesex and the team there truly understand the needs of local businesses and are able to bolster and support them and the local economy and job markets."
Good finishes, "Great job! Great people! Great experience!"
To find out more about Whitecrest Mushrooms Ltd. visit www.ttmf33.wixsite.com/whitecrestmushrooms or email ttmf@whitecrestmushrooms.com.
For more information on Community Futures Middlesex visit www.cfmiddlesex.ca or contact (519) 641-6100