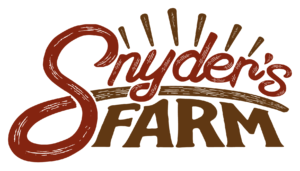 Family Fun & Festivals at Snyder's Family Farms
Snyder's Family Farm is an agricultural tourist destination in Oxford County where guests can experience family fun in the country. Owners John and Meghan Snyder welcome over fifty thousand visitors annually to the farm. With over 30 acres of pumpkins, twenty-one thousand Christmas trees, and an abundance of farm attractions there is something for everyone. Snyder's Family Farm is a place for families to enjoy some good old-fashioned country entertainment.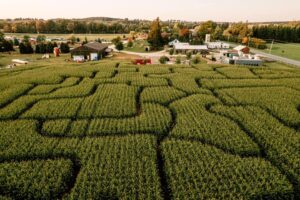 Three festivals are hosted at Snyder's Family Farm every year including a Fall festival, Fear Farm, and The Old Fashioned Christmas. In the Fall, farm attractions like the corn maze, haunted house, and pillow jump amuse children while parents sip on their favourite craft brew at the Pumpkin Pub. At Christmas, families can visit Santa at the North Pole, grab a freshly baked cookie, cut down their Christmas Tree or gather around a winter campfire. The festival experience becomes a family tradition for visitors offering the gift of time to enjoy the holiday season.
"We decided that we were going to do one thing really well, and that was festivals. "We draw a lot of tourists, that haven't been to Oxford County," says Meghan.
Over the past ten years, Snyder's Family Farm has grown ten times the profit from its early days as a small pumpkin farm. With two kids and a full-time staff, Snyder's Family Farm has quickly become a well-established tourist destination in Oxford County. But, in 2020 everything changed for John and Meghan when the pandemic hit and they could no longer welcome guests to the farm. The gross profit and visitors at Snyder's Family Farms dropped by 75%. "We have a very short amount of time to put on the festivals and it was devastating," recalls Meghan.
It was a time of uncertainty but John and Meghan found a way to operate and keep their business alive. With new restrictions in place on gatherings, Snyder's Family Farm began offering an outdoor campfire experience for small groups. Through online ordering and a contactless check-in system families could pull up to a prelit fire and enjoy a homestyle dinner and smores. The Snyder's Family Farms campfire experience was awarded the 2020 Southwest Innovation Award.
The guest experience has always been a priority for John and Meghan. They set their sights on a gift barn where visitors could shop and take something home with them to remember the farm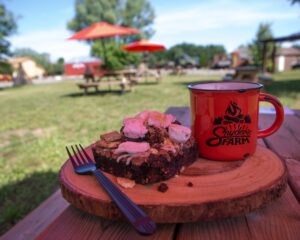 experience. John and Meghan sought help from Community Futures Oxford who helped them with the financing for the project. "The timing was really important. Small businesses need funding. Without the support we wouldn't have been able to complete the project," says Meghan.
The completed Gift Barn "adds to the festival experience, and the funding allowed us to finish the experience for all ages," says Meghan. Visitors can shop a well curated selection of gourmet food and giftware. The success at Snyder's Family Farms has made a ripple effect on the community by supporting local producers and attracting visitors from across Ontario. "We sold $5000 of our neighbour's honey last year and $500,000 in expenses went to rentals, employees and local suppliers," says Meghan. The ultimate family day in the country can be found at Snyder's Family Farm and now you can even take a piece of the farm home.
For more information about Snyder's Family Farms visit www.snydersfamilyfarm.com or email info@snydersfarm.com.
For more information about Community Futures Oxford visit www.cfoxford.ca or call (519-)425-0401