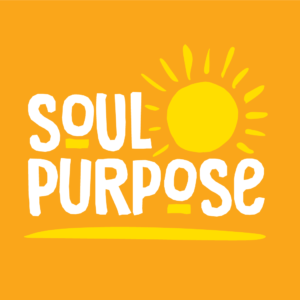 Snacks with Purpose
Soul Purpose Bars is on a mission to offer healthy snacks that serve a purpose. Nutrient-dense ingredients from whole foods, plant proteins, and healthy fats offer therapeutic benefits to nourish and heal the body. The plant-based protein bars are unprocessed and preservative-free so you can feel good about snacking.
"All of the ingredients are in their natural form. They are made, pressed, packaged and stored in the refrigerator unprocessed." – Renee Mackey-Burson.
A variety of Soul Purpose Bars are available to order online including Golden Glory, Mocha MCT, and Empower-Mint. The golden glory bar has anti-inflammatory tahini, turmeric, organic ginger,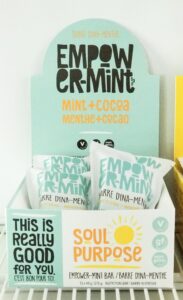 and raw cashews to improve gut, immune, joint and liver health. Packed with vitamins and proteins, the Mocha MCT bar is an energy powerhouse made with whole almonds, bittersweet chocolate and MCT oil. The Empower-Mint bar is loaded with crushed walnuts, dark chocolate and mint that boosts brain performance and enhances memory and mood. Every bar is made in Canada, in small batches with real food ingredients.
Owner Renee Mackey-Burson began as a food blogger and decided to pursue her passion for food at The Academy of Culinary Nutrition. While in culinary school Renee discovered culinary nutrition and the idea for Soul Purpose Bars was born. "I offer people food that serves a purpose for the body," says Renee.
In 2018, Renee's Dad suffered a traumatic brain injury from a serious car accident. To support his recovery Renee looked at how nutrition could help optimize his brain health. As a tribute to her Dad, Renee created the Empower-Mint bar. Over 20,000 Soul Purpose Bars are made every year and sold across Canada.
The production began in a small church kitchen in Woodstock. In need of more space, Renee approached Community Futures Oxford to help fund the project. "We got a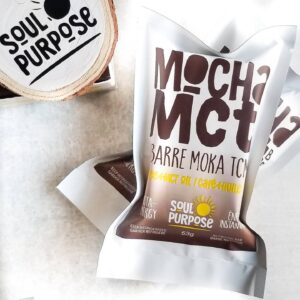 business loan and so much more, Community Futures Oxford helped with the business plan which was critical. We kept our two-year plan on the wall in our kitchen, and highlight it every time we hit a goal," says Renee.
The new kitchen meant that Soul Purpose Bars could guarantee their ingredients as vegan, gluten-free, and dairy-free. The backing of Community Futures Oxford helped Soul Purpose Bars expand its product line and they now offer a Mojo Berry Power Granola and vegan cookies. "The Community Futures Oxford team is vocal about small businesses and are always making referrals for our business in the community," says Renee. Today, Soul Purpose Bars can be found in Foodland grocery stores, coffee shops, and online.
For more information about Soul Purpose Bars visit www.soulpurposebars.ca or email info@soulpurposebars.ca.
For more information about Community Futures Oxford visit www.cfoxford.ca or call (519) 425-0401