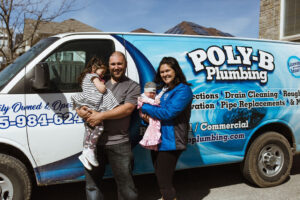 Dirty hands equal clean money says Paul Bosse.
With over 15 years in the plumbing business, he ought to know.
Bosse owns Poly-B Plumbing with his wife Jody. He opened the company with the aim of offering the Orillia area professional, affordable services that run the gamut. From unclogging drains and fixing leaky pipes, to camera inspections, complete pipe replacement and new construction builds.
The second-generation plumber learned his work ethic by helping his father in the trade.
"We take pride in what we do, and we try to service our customers to the best of our ability," he said.
As Poly-B Plumbing's name grew, so too did the demand for additional services.
"A lot of people were calling us for the flushing of lines and we just didn't have the equipment or the funds to get it," Bosse said.
So, he contacted the Orillia Area Community Development Corp. (CDC) to see how they could help.
The CDC provided Poly-B Plumbing with a loan to purchase a pressure generator for flushing clogs and melting ice in the lines.
"We've definitely put it to use and it's probably paid for itself by now," said Bosse.
The loan also allowed Bosse to hire an employee, giving Poly-B Plumbing another 17-year plumbing service professional to further assist the community it serves.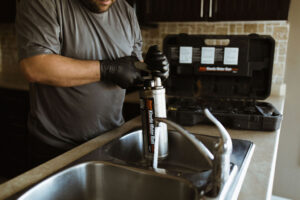 Bosse doesn't know what he would have done if the CDC hadn't been there.
"We hadn't been in business long enough to approach a bank; at the time we were only a year-and-a-half in business," Bosse noted.
The CDC was a shining light in a dark tunnel for Bosse and his young family.
"The CDC was pretty much our only option. We wouldn't have been able to provide those services at the rate that we can because we were having to rent all of the equipment," he explained.
The loan was like a lifeline.
"Before that we funded everything ourselves," Bosse said. "We had put most of our savings into the company and we really needed that extra little boost.
"It helped our family to carry on with our family business."
Poly-B Plumbing has plans to expand north, into and beyond the Muskoka area. It also hopes to bring another licensed plumber on board.
In the meantime, it will continue to carry on the essential task of ensuring plumbing systems continue to flow smoothly.
"Indoor plumbing basically helped eradicate the black plague and without indoor plumbing you're going to go back to having airborne diseases," Bosse noted.
Like most small businesses, Poly-B took a hit when COVID-19 surfaced, slowing business down as people tried to reduce the virus' spread.
Bosse and his team take all the necessary precautions, including wearing masks and maintaining social distancing.
"Now that everybody has more information about what's going on, it's let up," Bosse said. "We're getting a lot of calls from people who put off their projects in the spring."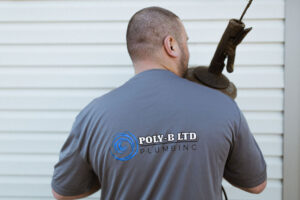 Future expansion is always on the horizon for Poly-B.
"We don't want to stop at one thing," Bosse said. "If you're not learning every day in this trade, you're not doing what you are meant to do.
"We can always make ourselves better."
And thanks to Orillia Area Community Development Corp., small business owners will always have a helping hand to do just that.
For more information about Poly-B Plumbing visit https://www.polybplumbing.com/, or call 705-984-6249.
For more information on the Orillia Area Community Development Corp. (CDC) visit www.orilliacdc.com or contact 705-325-4903 x 101.
( Publié en février 2021 )