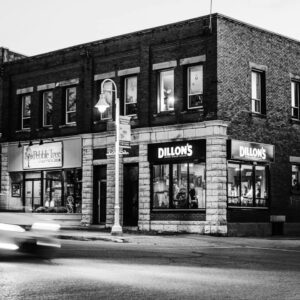 Where passion meets pizza you find Dillon's.
Spend five minutes talking with Richard "Ricky" Dillon of Dillon's Wood Fired Pizza, and you'll find yourself swept up by his charisma and passion for his business.
Every ounce of that passion is panned into his delicious Napoletano-style pizza—all made in an authentic wood fire. With hand-made dough, fresh ingredients, live music, and a quaintly varied menu, Dillon's is burning itself a firm place in Midland's food scene.
While the life of an entrepreneur may not be for everyone, there was no other choice for Ricky.
"I fell into an obsession with the concept," said Ricky. "My family is full of entrepreneurs and I was constantly thinking about it, day and night. The idea wasn't always wood fire pizza, but it was always going to be something in the food and beverage industry."
Having previously worked as a waiter, this obsession paired with an attraction to the social atmosphere of the food industry led Ricky to Dillon's, opening in May 2016.
"I didn't choose wood fire pizza, it chose me," said Ricky. "Past bosses would take me out for (not so good) wood fire pizza, and that stuck with me. I saw it as my chance since it was economically possible to start one up."
Ricky certainly strayed far from that sub-par set up for Dillon's. Whether out for a craft brew and 'za with friends or taking the family for a fun meal out, Ricky and the Dillon's staff has served them all—and loved doing it. Hundreds of reviews from pleased customers laud the deliciously authentic food, the personable service, and the incomparable atmosphere that is uniquely "Dillon's".
Yet Ricky doesn't concern himself with reviews. "I used to read negative comments and find myself upset over them," said Ricky. "Now, I say don't worry about reviews; just know in your heart you're a good person and do the best job for everyone that you can possibly do."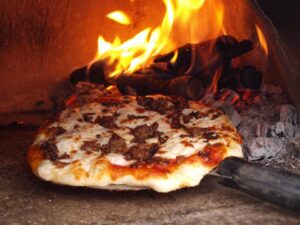 With a finished product like Dillon's, Ricky makes entrepreneurship look as easy and natural as his personality. However, this was far from a quick and easy start up. Having very little funds from his years of waiting tables, there was no clear, easy path to his dream.
"Self-doubt creeps into your daily vocabulary," said Ricky. "Your idea is a bright lightbulb and if you don't have the passion and desire, you won't make it to the finish line with that same bright lightbulb."
Introduced to the North Simcoe CFDC office through other CFDC clients, Ricky credits his CFDC with forcing him to be fully prepared.
"I came to North Simcoe with a car, chainsaw and a shed as equity. I had one of the best loan officers, Sheila, who slapped me in the face with reality and made me do my due diligence," Ricky chuckled.
His North Simcoe CFDC loan officer, Sylvia, helped Ricky take his broad dream and fine-tune details to craft something plausible. There were many times she prompted Ricky to go back and convince himself that this would work, despite her confidence in her client—she knew he had to believe it himself and be sound logistically. Through a lengthy and exhaustive process, Ricky and Sylvia finally created something conceivable.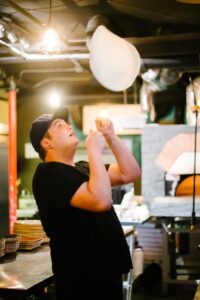 "After her walking me through it step-by-step for three years, I walked in so prepared to talk to the board that everyone said yes—it was unanimous."
For any up-and-coming entrepreneurs, Ricky is happy to offer advice. "Don't borrow money from family or friends, surround yourself with the most powerful business mentors you can find, read books and the internet and use them as resources, and get rid of your fear," said Ricky.
"Remember that you will work 1000 hours more than in a normal job. But that passion that started your path will carry you through to the end."
( Publié en février 2018)