What is SOFII?
In order to help businesses, accomplish their objectives, SOFII provides support to business owners by offering them repayable loans. Fed Dev Ontario supported WOCFDCA with capital investments in SOFII, as part of the agency's Prosperity Initiative, originally in 2012 and subsequently in 2014 and 2019.
The SOFII program supports high-growth, innovative Small and Medium-sized Enterprises (SMEs) in rural and urban communities by offering loans of $150,000 to $500,000 (additional funding is available on an exception basis) to support all aspects of growth challenges facing them. The loans are intended to help finance:
Late-stage commercialization.
New product or service development.
New applications or markets; or
Development or implementation of new processes or technologies.
Eligible businesses will be situated in the geographic area described as Southwestern Ontario. Both urban and rural centres are serviced by SOFII.
The West Region (WOCFDCA) will service the following areas as outlined in the census divisions: Brant, Bruce, Chatham-Kent, Dufferin, Elgin, Essex, Grey, Haldimand-Norfolk, Halton, Hamilton, Huron, Lambton, Middlesex, Niagara, Oxford, Peel, Perth, Simcoe, Waterloo, and Wellington.
Programs
Repayable Financing
Repayable financing at competitive interest rates determined through a risk assessment will be made available to qualified businesses. There are no fees to apply for financing from the SOFII. The only expenses are for the preparation of legal documentation of the loan and the registration and discharge of security where applicable.
Risk Based Interest Rates
Loans from $150K to $500K (additional funding is available on an exception basis)
Loan Term up to 5 Years
Amortization up to 10 Years
No Application Fees
No Prepayment Penalties
Non-Dilutive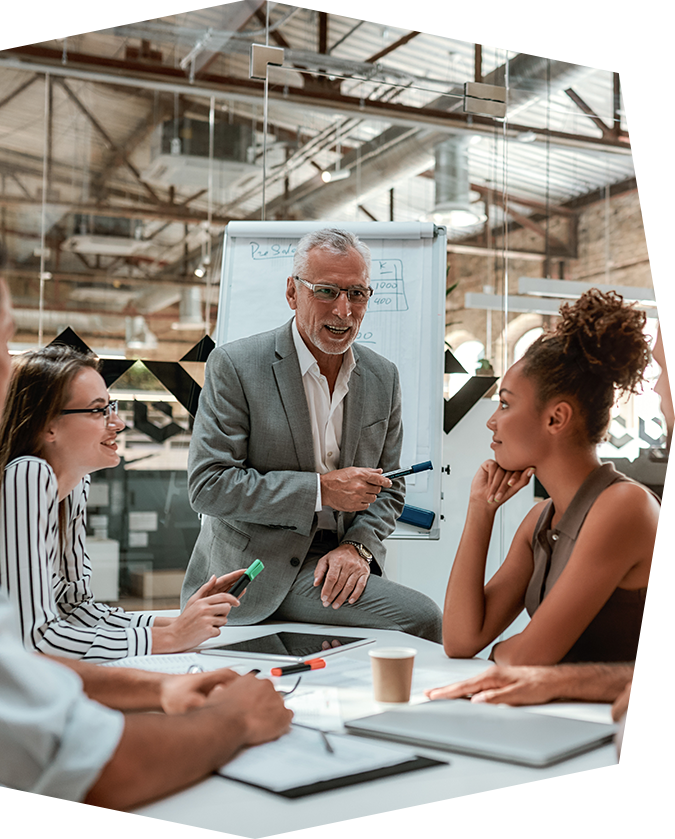 Eligible Organizations
Eligible applicants are private sector innovative SMEs located in South Western Ontario who are engaged in projects that will result in the adaptation and adoption of new technologies, projects, processes or markets. Eligible organizations will:
Employ 50 to 500 employees or identify that there is a strong likelihood that they will reach 50 employees within a three-year period.
Be unable to obtain adequate and reasonable financing from other lending sources
Operate in Southern Ontario
Demonstrate job creation/retention for Southern Ontario residents
Be suitable for public funding
Establish a reasonable expectation of economic viability
Demonstrate the ability to repay funds advanced by Community Futures Western Ontario Development Corporation Association
Have secured the required matching funding through private investment, financial or equity partnerships or working capital.
Provide evidence of their ability or experience to operate the business
Be generating revenue
Ineligible Organizations
Federal and provincial government departments (eg: agencies, boards, corporations, and commissions)
Post-secondary institutions (eg; colleges, polytechnic institutes, universities and teaching institutions)
Not-for-Profit corporations, and
Municipal governments
Walter Lehman  Director, SOFII
walterl@wocfdca.com
Rebecca Griffith, Loans Analyst, SOFII
rebeccag@wocfdca.com
Jerry Makahon, Loans Officer, SOFII
jerry@wocfdca.com
| Applicant | Location | Loan Amount | Date Closed |
| --- | --- | --- | --- |
| TritonWear 2 | Toronto | $160,000 | 31-May-22 |
| 2G Robotics | Waterloo | $500,000 | 30-Apr-18 |
| Accelerated Systems Inc. | Waterloo | $500,000 | 31-Dec-14 |
| Ace Age Inc. | Waterloo | $500,000 | 31-Mar-20 |
| Ackroo | Grimsby | $500,000 | 1-Mar-19 |
| AOMS Technologies | Mississauga | $230,000 | 28-Apr-22 |
| AOMS Technologies | Mississauga | $500,000 | 27-Sep-18 |
| Applied Recognition | Oakville | $500,000 | 28-Jun-19 |
| Axonify Inc. | Waterloo | $500,000 | 1-May-14 |
| Bluerover | Cambridge | $500,000 | 9-Aug-17 |
| Bridgit | Kitchener | $500,000 | 1-Nov-17 |
| Chalk.com | Kitchener | $500,000 | 14-Dec-17 |
| Chalk.com 2 | Kitchener | $185,000 | 29-Jun-21 |
| Coreworx Inc. | Kitchener | $500,000 | 1-Aug-15 |
| Datec Coating Corporation | Mississauga | $500,000 | 1-Feb-14 |
| Davidson Environmental | St. Catharines | $250,000 | 28-Jan-20 |
| Dejero Labs | Waterloo | $500,000 | 1-Sep-14 |
| Demand Metric | London | $500,000 | 29-Mar-19 |
| Earth to Kids | Collingwood | $500,000 | 29-Mar-19 |
| Earth to Kids 2 | Collingwood | $50,000 | 11-Dec-20 |
| Eleven-x | Waterloo | $500,000 | 16-May-17 |
| Eleven-X 2 | Waterloo | $252,000 | 22-Jan-21 |
| Enhanced Medical Nutrition | Hamilton | $400,000 | 1-Dec-22 |
| Fortes EPS Solutions Inc. | Midland | $500,000 | 21-Feb-13 |
| FunnelCake Inc. | Kitchener | $500,000 | 23-Aug-18 |
| GainX | Kitchener | $500,000 | 1-Aug-18 |
| GVA Lighting Inc. | Mississauga | $500,000 | 1-May-14 |
| GVA Lighting Inc. 2 | Mississauga | $1,000,000 | 30-Mar-20 |
| Hamilton Technology Centre | Dundas | $500,000 | 20-Feb-19 |
| HRWARE Inc. | Brampton | $500,000 | 31-Jan-17 |
| In the Chat | Waterloo | $500,000 | 30-Jun-16 |
| Intellijoint Surgical | Waterloo | $500,000 | 31-Mar-15 |
| Intellijoint Surgical 2 | Waterloo | $865,000 | 21-Jun-19 |
| Jakeman's | Brantford | $300,000 | 31-Jul-15 |
| Jamstack | Brampton | $500,000 | 16-Sep-20 |
| JEM Strapping | Brantford | $250,000 | 1-Nov-14 |
| JEM Strapping 2 | Brantford | $200,000 | 30-Nov-15 |
| JJK Print Inc. | Leamington | $350,000 | 18-Oct-19 |
| JobAdX | Mississauga | $500,000 | 24-Dec-19 |
| Link2Feed | Sarnia | $500,000 | 1-Jul-14 |
| LoanConnect | London | $400,000 | 26-Feb-21 |
| Miovision Technologies Inc. | Kitchener | $500,000 | 1-Jan-14 |
| Nicoya Lifesciences | Kitchener | $500,000 | 31-Aug-16 |
| Nix Sensor | Hamilton | $500,000 | 30-Jun-17 |
| Nix Sensor 2 | Hamilton | $260,000 | 9-Sep-20 |
| Novanni Stainless | Coldwater | $500,000 | 4-Mar-13 |
| Ocean Wave Imports | Mississauga | $500,000 | 29-Oct-19 |
| Ontario Grain Products | Desboro | $400,000 | 1-Oct-14 |
| Palette Gear | Kitchener | $500,000 | 13-Jul-17 |
| Palette Gear 2 | Kitchener | $250,000 | 26-Sep-20 |
| Pavaco Products Inc. | Brantford | $500,000 | 1-Sep-14 |
| Plum.io | Waterloo | $500,000 | 31-Jan-17 |
| Powernoodle Inc. | Stratford | $500,000 | 29-Apr-19 |
| Prolucid Technologies Inc. | Mississauga | $500,000 | 31-Dec-17 |
| Pro-Navigator | Kitchener | $500,000 | 29-Mar-19 |
| Pyrowave | Oakville | $500,000 | 31-Mar-15 |
| R.E. Morrison Equipment | Mississauga | $450,000 | 26-Jun-20 |
| Ramp Inc. | Waterloo | $500,000 | 25-Mar-15 |
| Root Cellar | Kitchener | $500,000 | 30-Sep-16 |
| SceneDoc Inc. | Mississauga | $500,000 | 31-Dec-14 |
| SceneDoc Inc. 2 | Mississauga | $325,000 | 24-Oct-18 |
| Sensor Suite | Mississauga | $500,000 | 4-Jul-18 |
| Sensor Suite 2 | Mississauga | $150,000 | 15-Dec-20 |
| Sera4 | Waterloo | $500,000 | 19-Jun-18 |
| Signifi Solutions Inc. | Mississauga | $500,000 | 1-Nov-14 |
| Smart Energy Instruments | Oakville | $500,000 | 30-Apr-15 |
| Stromecore Energy Inc. | Mississauga | $500,000 | 30-Apr-21 |
| Swift Labs 1 | Kitchener | $250,000 | 1-Nov-19 |
| Terepac Corporation | Waterloo | $500,000 | 1-Dec-14 |
| TeTechS Inc | Waterloo | $500,000 | 18-Nov-15 |
| TritonWear | Toronto | $500,000 | 18-Dec-15 |
| TritonWear 2 | Toronto | $250,000 | 26-Jun-19 |
| Ubiquilux Corp | East Caledon | $500,000 | 26-Jun-19 |
| VideoComm | Burlington | $500,000 | 30-Aug-18 |
| Vital Imagery | Brussels | $350,000 | 16-Apr-18 |
| Voices.com | London | $500,000 | 21-Dec-12 |
| Weever Apps | Hamilton | $250,000 | 1-Jun-14 |
| Weever Apps 2 | Hamilton | $250,000 | 30-Nov-15 |
| Weever Apps 3 | Hamilton | $225,000 | 3-Oct-18 |
| Weever Apps 4 | Hamilton | $400,000 | 29-Jan-20 |