Vettä Nordic Spa Founder and President Eric Harkonen has a passion for Finland, his Finnish heritage, and the Finnish lifestyle. So much so, that he has brought a big piece of that experience to Horseshoe Valley, for everyone to enjoy.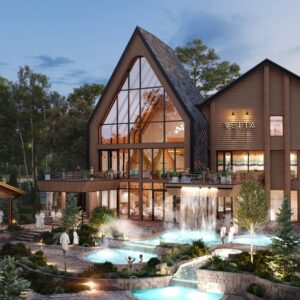 Vettä Nordic Spa offers thermal therapy and an authentic Finnish experience with its impressive hot and cold plunge pools.  Vettä has one of the largest saunas in North America and the steam rooms are world class. This makes Vettä Nordic Spa a unique destination in Ontario. This Nordic Spa experience is a perfect fit in the Horseshoe Valley area, and that outdoor/wellness lifestyle that is so important to the people in the region.
"Vettä actually started about seven years ago," Harkonen explains. "I am Finnish-Canadian, and if people know anything about Finns, Finns are synonymous with our saunas. I have a sauna in our backyard, a pool, a relaxation area…friends would come over to our place for years, and say, wow, this is like another Nordic spa…we are relaxing, recharging, connecting.
"Four years in a row, Finland has been the happiest country in the world. Saunas are part of the Finnish lifestyle, 86% of people in Finland own their own sauna, more than cars. Minimalism is important there, too. We tried to apply that to Vettä. Our architecture is Finnish-inspired, the wood here is from Finland. We have tried to create a Finnish village right here in Oro-Medonte, Ontario.
"We realized people need a place like Vettä in our society, that recharging, rejuvenating, connection. And being that there was only one other Nordic spa in Ontario at that time, we were intrigued. It's an amazing opportunity, and it's so needed, especially since we have all felt so disconnected during the pandemic."
Orillia Area Community Development Corp. (CDC) General Manager, Wendy Timpano, remembers the day Harkonen came into the CDC boardroom to explain his vision. "I remember thinking,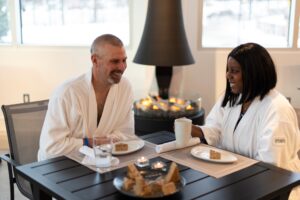 wow, what an amazing idea, that this is an incredible opportunity, and we at the CDC needed to be at the table to help Eric achieve his vision."
And achieve it he did. With the backing and support of the Orillia Area CDC and North Simcoe Community Futures, Harkonen was able to get introductions to other community partners throughout the region and get the funding and partnerships he needed to make this 16-million-dollar dream come to life.
Harkonen elaborates, "Vettä and its completion is all about community. The talk with the CDC was the beginning, then the Business Development Bank of Canada (BDC), other lenders, the architects, designers, contractors. Many of our contractors actually came in as investors as well, which is unique. Locals, a job fair, networking, suppliers, the management team…everyone came together as a community and made incredible partnerships with us. Everyone believed in the vision and shared my passion. They knew that it would build an incredible community with impact and came together to make it a reality."
Now that Vettä Spa is open, the community continues to grow. Harkonen clarifies, "We have 40 staff currently and are planning to expand to 100 when we are at capacity. All of our suppliers, linens, towels, landscaping, snow removal, wood suppliers, food suppliers, cleaning…all local."
"Community Futures will listen to the entrepreneur. A lot of times, the bigger banks, they want nothing to do with you if you are a start up. The BDC and the TD bank were the only exceptions to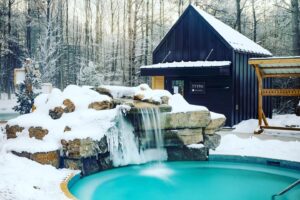 all the major banks as, in addition to the Community Futures, they believed in my vision and supported the project.  Community Futures was behind me and allowed us to take the next step, and get where we are today," Harkonen emphasizes.
What can customers expect when they come to Vettä Spa? "It's all about thermal therapy.  It is all about hot, cold, relax, repeat, and recharge. Combine that in with an incredible bistro, healthy eating, locally sourced foods, registered massage, and being surrounded by nature. It is the ultimate wellness escape," says Harkonen.
Come visit Vettä Spa and experience it for yourself by booking online at www.vettaspa.com.
For more information on the Orillia Area Community Development Corp. (CDC) visit www.orilliacdc.com or contact 705-325-4903.