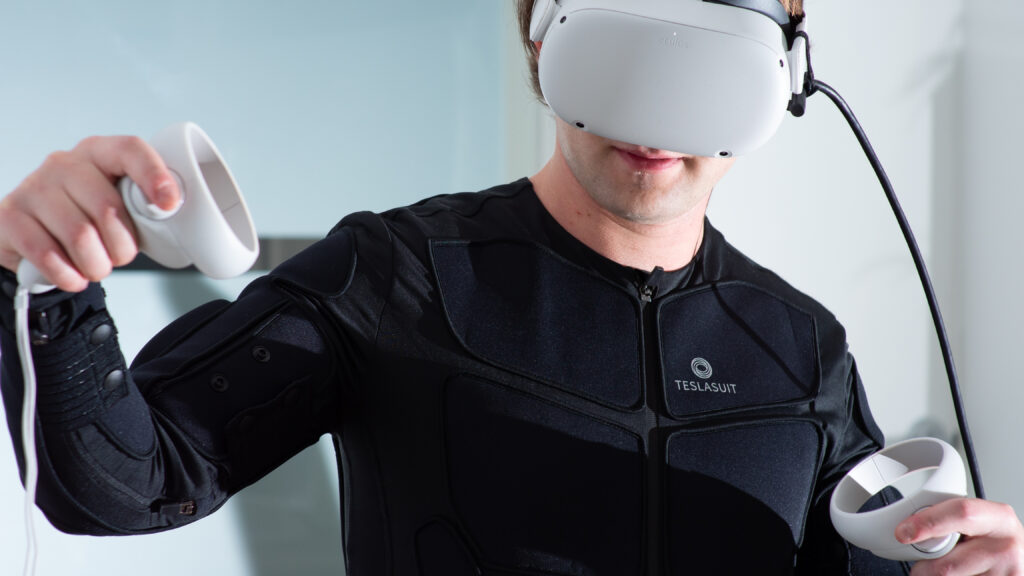 XpertVR – Unforgettable ELearning Experiences
Co-founders Drew MacNeil and Evan Sitler launched the startup XpertVR through Brock University's BioLinc Incubator. What started out as an experimentation with a 360-degree camera quickly transitioned into marketing video creation for big brands including Brock University, Niagara Falls Tourism, and Red Bull. With a passion for videography and technology, XpertVR purchased its first VR headset.
Through their network, MacNeil and Sitler were introduced to their mentor at Lake and Associates, Rick Besteman, who showed how virtual reality could be used for eLearning, team building, and leadership skills. MacNeil and Sitler saw the possibility and quickly pulled together their business plan to create unforgettable eLearning experiences using virtual reality. In 2019, XpertVR won Monster Pitch at Brock University which gave them the funds to hire their first employee.
With a developer on staff, XpertVR began building simulations and has grown to a team of ten full-time employees, one part-time employee, and a rotation of co-op students. As a Niagara-based business, they live and work in a game development community with big gaming firms and studios setting up shop. In addition, a continuous stream of talent is trained at Brock University and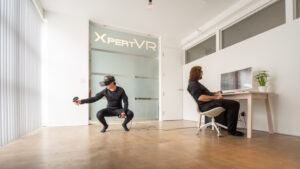 Niagara College. When the first cohort graduated from the gaming program, XpertVR hired three employees and continue to hire new employees from the Niagara talent pool and other colleges across Ontario.
XpertVR sought out Venture Niagara for funding knowing they had a market of opportunity and continued success. Venture Niagara, General Manager, Frank Rupcic and Loans Officer, Volker Loetfering not only supported XpertVR during their growth stage but also when their business was impacted during the pandemic. "The funding came in at a crucial point when Covid hit. We didn't have any contracts and it was a big worry. Being able to have that to cover us for a couple of months gave us the time to lock in new contracts," says Sitler.
"The support of Venture Niagara provided us with the opportunity to repurpose our code and build products for future applications. Venture Niagara helped us improve our processes, take risks and spend more time on projects," says Sitler.
XpertVR is on a mission to help one million people learn through actions not statements. Virtual reality simulations enable tactile learning that educates people through experience. Unlike other virtual reality experiences the XpertVR conversation matrix tool simulates conversations with avatars inside a virtual environment so people can learn hard and soft skills. The planning process involves partnerships with academic institutions and organizations. Knowledge from industry experts is used to build products based on human behaviour and experiences. The extensive market research component is critical to the training.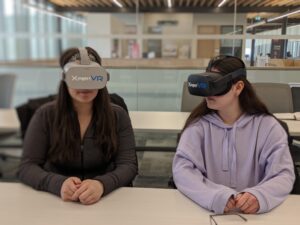 XpertVR offers customized training programs for any industry. Police officers can learn to deescalate difficult scenarios, businesses can educate employees on diversity and inclusive office culture, nurses can triage an emergency situation all before it actually happens. The XpertVR virtual learning environment is a tool for businesses to educate employees, mitigate risk and invest in prevention.
"We understand that we are the experts in virtual reality not everything else. Whenever we're building these simulations we're sitting down with 5-6 industry experts and getting their advice on every part of the simulation to make sure the interactions in a virtual setting are built to what happens in the real world," states Evan Sitler, Co-Founder.
To find out more about XpertVR visit www.xpertvr.ca or email info@xpertvr.com.
For more information on Venture Niagara visit www.ventureniagara.com or contact (905) 680-8085.