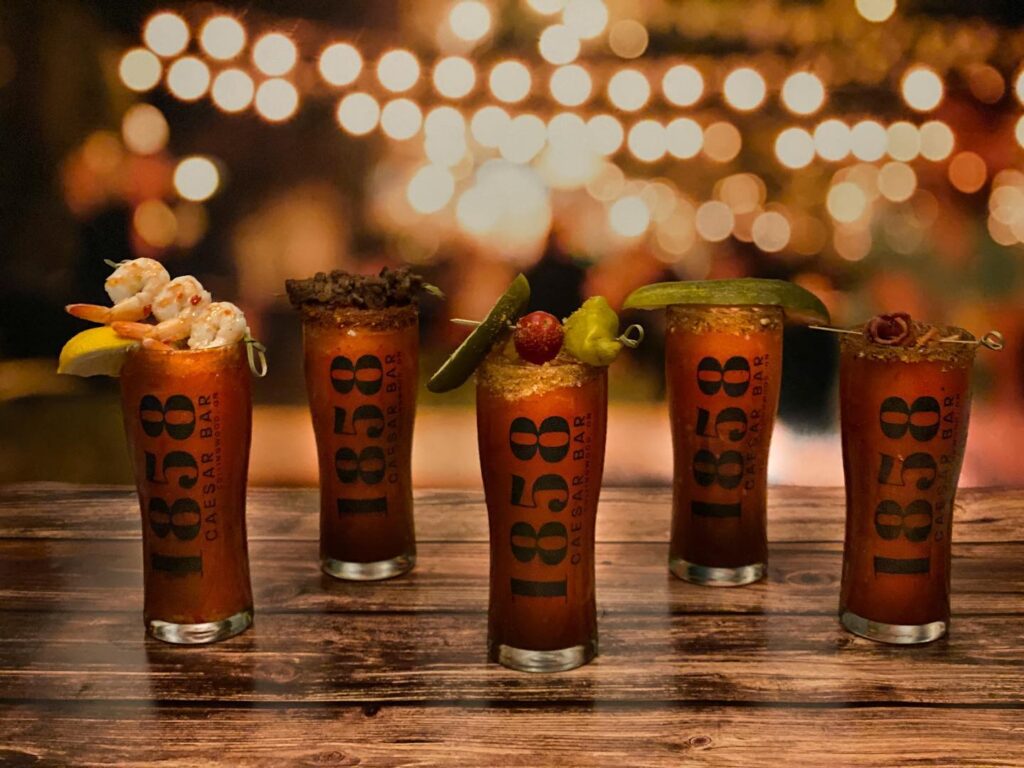 There's nowhere else in Canada where you can get the truly exceptional 1858 Caesar Bar experience.
"Being Canada's first Caesar bar and Canada's national drink has turned us into an attraction," says 1858 Caesar Bar owner Steve Walker. "People come for the experience. It's a really cool experience when you come, and our reviews speak for themselves. We have essentially turned into a tourist attraction."
Customers are met at the front door of the Collingwood bar by a liaison whose job it is to make sure everyone is welcomed and excited for the journey ahead.
"You come into a happy place," Walker says. "Everybody's smiling – you can even see their smiles under their masks now. And then we engage with customers to see how they are enjoying their experience – where they are from? What they are up to? The interaction between the employees and the patrons is what brings the experience to a whole new level."
The bar's menu offers customers a selection of 45 different signature Caesars that include Tequila Sunrise, Feeling Dill, Korean Beef, Bacon Bomb, Surf and Turf and more. There is also a four-Caesar taster flight and a build-your-own option that includes everything from chicken, cured meats and cheeses to lobster and shrimp.
"It's almost like a floral bouquet," Walker says. "You can have a nice simple Caesar for as low as $6.58 and then you can build on it to where it's just a monster ginormous Caesar."
There is even a kid's menu, offering virgin Caesars along with grilled cheese, quesadillas, and dilly fries. And everything on the menu is either air fried or baked.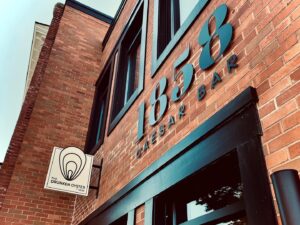 The bar has clam juice right on tap, and they use their own specially made Walker's One-Shot Elixir to ensure the perfect blend every time. This setup allows 1858 Caesar Bar to operate as Canada's first quick service bar, getting drinks in hand in under 90 seconds.
"We're more like a Starbucks than we are a restaurant or bar," Walker says. "We are high volume. On a Saturday we will serve over 1,000 Caesars."
Customers can take a bit of the bar home with them through the 1858 retail store, which includes everything you could ever need to make a Caesar at home, including rimmers, rimmer trays and their famous elixirs, which were featured on Dragon's Den in 2017.
"What really laid the egg for the Caesar bar was our elixir," Walker explains. "It is a by-product that you add to the Caesar. So, let's say you're using your Worcestershire and your Tabasco, with the elixir, you eliminate the fuss and fumble. Our elixir has all those key ingredients that makes a Caesar but elevated to a whole new level with herbs and spices in our own 1858 brine."
None of this would have been possible without the help of Community Futures South Georgian Bay, a Community Futures organization located in Collingwood, which helped Walker secure a $50,000 loan to get the business going.
"Everybody thought I was insane for opening the Caesar bar," Walker recalls. "But (Community Futures South Georgian Bay) believed in me and we were able to acquire some funds from them and they assisted us to get us to where we are today. They played a big part in getting us to where we needed to get."
In addition to the $50,000 loan, Walker was able to get additional help for marketing and business development through smaller grants and loans he would not have known about if it were not for Community Futures South Georgian Bay.
"Anywhere that we qualified, we were able to get additional funds," he adds. "They are super supportive, and even in these unprecedented times with COVID-19, you can tell that they really care about the companies that they've supported and loaned money out to. They are obviously willing to work with you."
Without that help, Walker says he would have had to make some tough decisions.
The COVID-19 pandemic has taken its toll on the restaurant business, and Walker says he's felt the pressure. They've had to close multiple times and have invested over $50,000 to help make the bar a safe place for its customers. The bar is completely contactless with contactless doors, toilets, sinks, soap dispensers and paper towel dispensers. They do wrist temperature checks and have had sanitization stations available since even before the pandemic hit. But even with all the measures, Walker says the past year has been a struggle.
"It's been extremely taxing. It's been extremely difficult, with big, big losses," he says. "But we are looking at a brighter future, looking down that tunnel and still seeing the light. I look at positivity, I wake up in a positive mindset every day."
That positive mindset has pushed Walker to do what most restauranteurs will not even think about at a time like this – opening more locations.
"We are opening up another location in Sauble Beach," Walker explains. "Even though we have lost money, we are still investing in the future, looking at a positive outcome of all this. I'm the crazy guy who runs headfirst into the storm."
And Walker has even bigger plans on the horizon, with his sights set on selling a ready-to-drink Caesar at the LCBO, making his own clam juice and selling their own 1858 potato vodka. He also plans to expand to franchises, with a goal of seeing 30 to 50 new locations opened in the next five to eight years.
"I want to be the Caesar king," he says. "We want to try and take a grasp of the Caesar market."
And what drives Walker to do it all?
"I love Caesars, I just love Caesars," Walker says. "I love seeing people when they get their Caesar in a different style of Caesar. They are happy, they take pictures and it's just so rewarding to see people enjoy themselves. And I think that's what we need today. We need to get that back again. We provide a place where you can come and feel at ease. You feel safe and it's just three simple letters – FUN."
Visit www.1858.ca for more information.