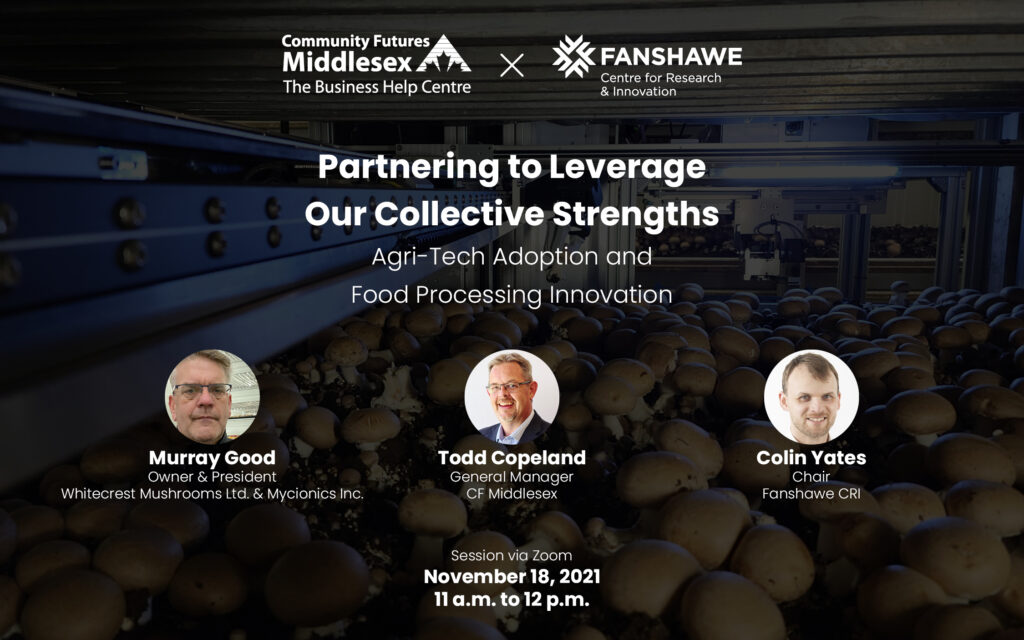 Farms and related agriculture businesses are significant contributors to the economic vitality and health of rural communities across Middlesex County. These businesses, however, are under increased pressure to invest in new technology adoption or business models to address the increased demand for their products or secure more value for the primary producer. New opportunities and unanticipated challenges have surfaced while navigating the uncertainties of the COVID-19 pandemic.
Community Futures (CF) Middlesex and the Centre for Research and Innovation (CRI) at Fanshawe Centre are partnering to host this 60-minute webinar. The goal is to build increased awareness for the funding, program and service offerings available to support individuals and agri-businesses looking to pursue new opportunities or overcome challenges that they have encountered.
Murray Good of Whitecrest Mushrooms Ltd. and Mycionics Inc. will share his story of how he continues to invest in the growth and expansion of his business and the research, development and commercialization of new technologies with support from partners, including CF Middlesex and the CRI at Fanshawe College.
To find out more and to register click here.