In this ever-changing business marketplace with new rules and regulations plaguing business people and customers, perhaps some conflict management tools will help keep your business focused and profitable. This business workshop is for both employers and employees. Learn how to de-escalate potential conflict and keep everyone focused on getting the customers the products and services that they need and want.
Guest Facilitator: Neil Dunsmore
As a former Corrections Officer and Hostage/Crisis Negotiator, as well as his experience as a small business owner, Neil is uniquely equipped to show you tips and techniques to deal with difficult situations. He will help you understand how to avoid emotional triggers, both yours and the people you are dealing with. By de-escalating potential crisis situations everyone can get back to doing business in a calm and respectful way.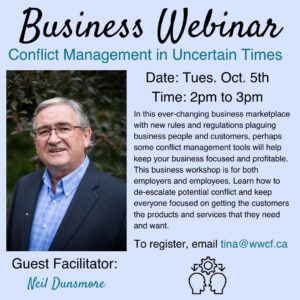 Email tina@wwcf.ca for more information and to register.