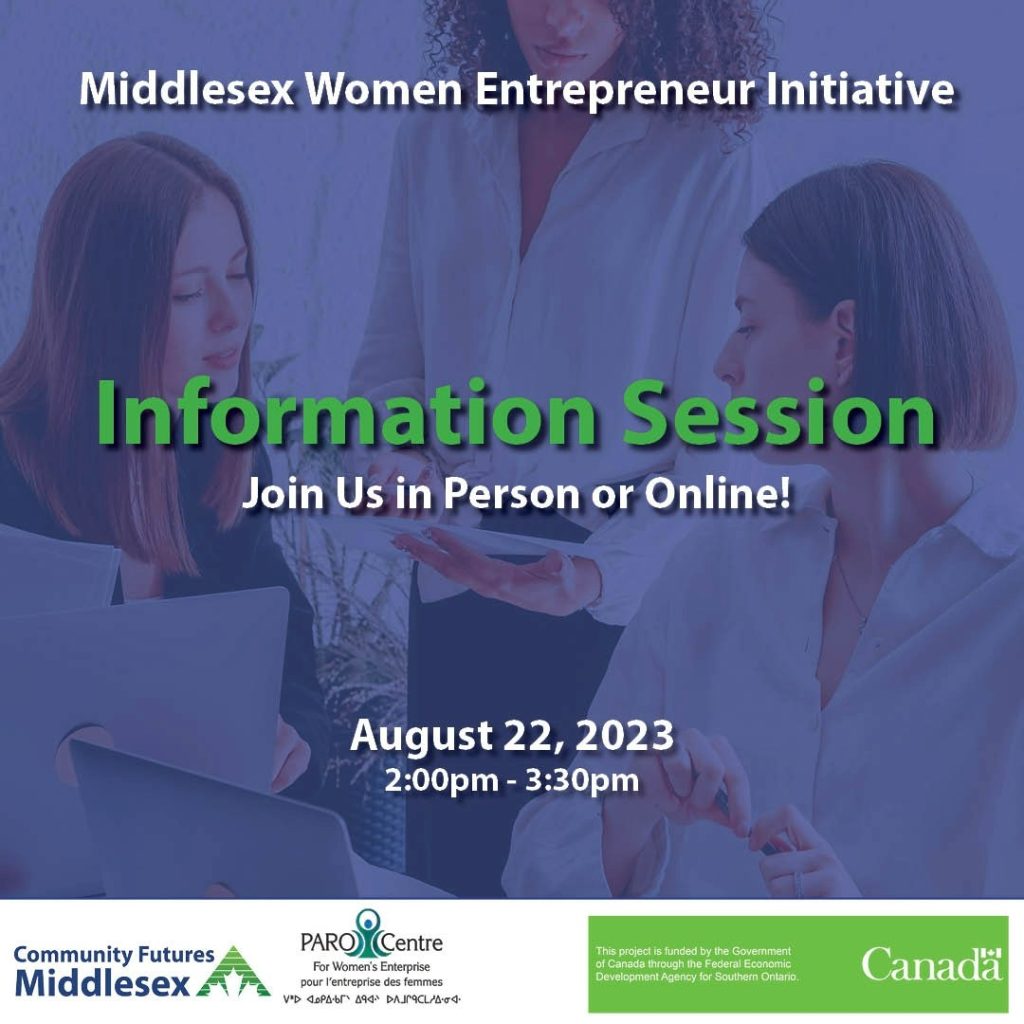 Community Futures Middlesex (CF Middlesex) is excited about the new relationship that we have established with the PARO Centre for Women's Enterprise (PARO). The key objective for the launch of our Middlesex Women Entrepreneur Initiative (MWEI) is to ensure women and women-led businesses continue to be provided with access to the resources and support needed to succeed. The MWEI will support creation of PARO Peer Lending Circles to serve the rural communities of Middlesex County (outside the City of London).
Women choosing to participate in the PARO Peer Lending Circle Program will be provided with the opportunity to access microloans of up to $5000, including a grant component of up to $1500, resources, tools, advisory and peer support to pursue their entrepreneurial and business interests. Advisory, peer support and funding decisions will be made through a local network of women who have chosen to serve as members of a PARO Peer Lending Circle.
CF Middlesex has committed to provide the funds to support the lending activity and to connecting potential participants and individuals interested in serving as members to the team at PARO who will be responsible for the delivery and administration of the Peer Lending Circle Program.
To kick start this initiative, our team would like to invite women wanting to learn more to participate in an interactive information session where we will share further insights regarding our involvement and details concerning the PARO Peer Lending Circles Program.
The event will be presented in a hybrid format on Tuesday, August 22, 2023, from 2:00pm – 3:30pm. Individuals will be provided with an option to participate in person at one of 3 Middlesex County locations or virtually online through Zoom at time of registration.
1.    CF Middlesex Board Room (13187 Ilderton Rd., Unit #3, Ilderton)
2.    Strathroy Public Library Program Room (34 Frank St., Strathroy)
3.    Dorchester Public Library Program Room (2123 Dorchester Rd., Dorchester)
4.    Virtual Online Participation (Zoom Link Available Upon Registration)
Additional information regarding your participation will be shared by email following receipt of your registration. An opportunity for questions and answers, in-person and online networking, group and/or one-on-one discussion will be offered at the conclusion of the presentations made by CF Middlesex and PARO.
Do not miss out on this opportunity to help women entrepreneurs in our communities thrive as either a participant or member of the MWEI. We look forward to engaging with you.
http://events.r20.constantcontact.com/register/event?oeidk=a07ejwbx513b1c0e5a3&llr=5xhhn6nab